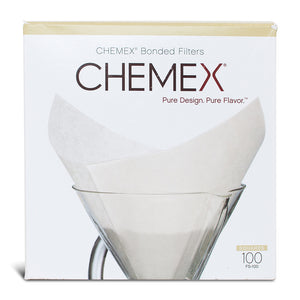 FEATURES

100 count
FS100 CHEMEX® Bonded Filters are thick and especially designed to prevent fine coffee sediment from getting into your cup. They are pre-folded for convenience and will fit most other cone-shaped filter coffeemakers.
BREWING

Depending on the coffee we aim for a 4:00 - 5:00 brew time with a medium grind (coarse sea salt) and aggressive pour in the middle. Want to see how we brew with a Chemex? Watch for yourself here.

EQUIPMENT

To complete your brew set up, check out the Hario Kettle, Hario Scale, CHEMEX® 8 Cup Pour Over, and Baratza Encore Grinder! 

---