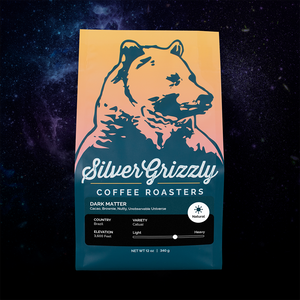 SHIPPING
Orders before noon on Monday ship out Tuesday

HOW SUBSCRIPTIONS WORK:

1. No shipping costs 
2. No contract, cancel anytime
ABOUT DARK MATTER 

When we drink this coffee we think about picking the crust off a pan of dark chocolate brownies that've gone a few minutes over. You can still taste the chocolate and sweetness but it's starting to get toasty ya'll. Mix a light nutty profile in with that and that's where this profile lands. We wouldn't exactly call this a "dark roast" since this profile doesn't come with ashiness and lingering astringency but if you're a dark roast lover this coffee will definitely resonate with you. Compared to the rest of our profiles it provides an excellent contrast just like dark matter contrasts the observable universe. So take some time for yourself, and put a little brownie crust and universe in your mouth. 

Coffee: Fresh harvested Brazil rotations 
Tasting: Cacao, brownies, nutty, unobservable universe 
Roast: Dark
Note: We put a lot of work into coffee purchasing and roasting to make sure that "dark roast" means "roasty", extra developed, and rich not ashy, stick-like, and thin.

PURCHASING 

Relational trade via Ally Coffee